In the beginning…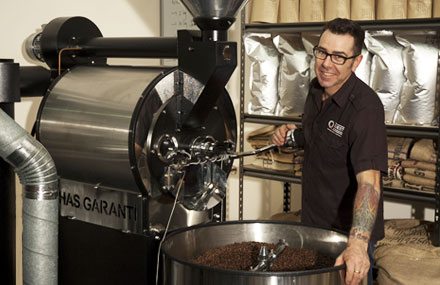 2009 saw the 'Quest' vision of 'sharing organic, locally roasted, super fresh and superb tasting coffee' begin, with Quest Coffee Roasters opening their doors in Burleigh Heads, whilst reaching far and wide on the Gold Coast. Conscious of the trend towards complicated coffee and weary of the 'Grande caramel 1/2 strength frappechino', we began our quest to provide people with great tasting beautiful organic and super-fresh coffee. Within weeks, word had spread there was a new bean in town with amazing taste. Our customers wanted to know WHAT we were doing to our coffee to make it taste SO good and WHERE had we been all their life?
A few years later…
Since our humble beginnings, we have welcomed many new customers to our James St. cafe and the only thing that has changed, is the addition of a bigger roaster! Our 2kg micro-roaster located in the cafe, is still with us, however it's task now is to keep up with our endless quest for new blends of beans; and to roast our test batches. Together with our 15kg roaster, located in our Burleigh Heads warehouse, our roasting duo are a perfect match, roasting great coffee and enabling us to maintain a high accuracy roast, producing the best Organic, Fair Trade Arabica coffee, the Gold Coast and beyond has tasted! It's this passion and dedication to roasting, making and serving, THE best tasting coffee, that keeps our warehouse busy roasting the love for our wholesale clients and our cafe constantly buzzing with coffee lovers and the hum of our hardworking machines.
At Quest Organic Coffee Roasters, it's not all about the beans and machines…
Our love affair with coffee would not be possible without people. From our coffee loving cafe community, our wholesale clients who are united in our commitment to providing customers with great organic, Fair Trade and freshly roasted Arabica coffee, to our amazing Quest team, we LOVE people! And at Quest, we work just hard as our machines. Not only do we serve great coffee, we make other delicious drinks, bake our own batches of treats to compliment our coffee, say please and thank you, get our own change at the bank and we brush and floss daily too!
Take a look at these videos on coffee processing:
Quest; an act or instance of seeking.
A pursuit, search.
Our quest for the perfect cup is never ending and our passion for roasting sees us pursue that perfection daily, when we blend, test batches and cup coffee. This act is a search for taste, body and aroma, that meets our perfectionist demands, so we can share this with coffee lovers on the same quest for the perfect cup.
The journey of a great espresso starts with…
30 steps. Seriously. Providing exceptional coffee is serious business for us at Quest Coffee Roasters and no less than 30 steps go into each and every shot of espresso. Whilst our customers may not know exactly WHY our coffee tastes better, we know it's the precise care we take with every step. From selecting Organic and Fair Trade or Rainforest Alliance green coffee beans to our unflagging attention to roasting. From our rigid freshness standards to our uncompromising barista standards; it's these steps that enable coffee lovers to sip our coffee and say "Your coffee is THE best on Queensland's Gold Coast" and no matter how often we hear it, we get a rush every single time.