We often get asked in store about the stylish Frieling Coffee for One Coffee Filter. What is it exactly? Well for those of you who don't know, the Frieling Coffee for One Coffee Filter is the one that uses 23 karat gold plated mesh to filter the coffee.
So apart from the fact that it is gold plated, elegant and classy, what is it that sets it apart from other pour over coffee brewers? The gold is chemically neutral which ensures that it doesn't react with your brew. It doesn't oxidise and the filter ensures that only the grounds are held back, ensuring that all the flavour of your coffee makes its way to your cup and doesn't get caught in the filter.
It is super portable which makes it the perfect travel companion, doesn't require filters, only needs a quick rinse after use and, it's sustainable. Pretty awesome right?!
We have step-by-step instructions below this picture…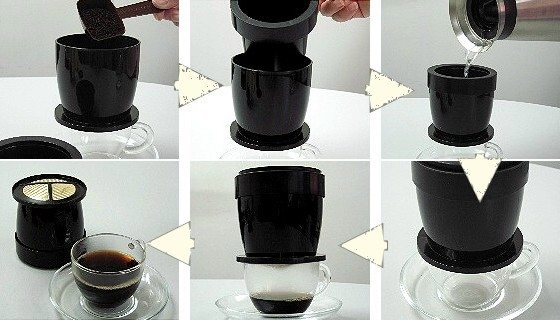 1. Place the Frieling Coffee for One Coffee Filter directly above your cup.
2. Remove the perforated insert.
3. Boil your water and it allow to cool to between 92°C and 96°C (this is approximately 30 seconds off boiling). If you allow the water to become too hot, it will damage the aroma and flavours of the coffee.
4. Pour hot water through the filter as it will help to preheat the filter mesh and cup. Then drain any residual water.
5. Measure your Quest coffee into the filter. The general rule of thumb is 15g of coffee to 250ml of water, unless you prefer a stronger brew.
6. Add a small amount of water, pouring in a circular motion, to create turbulence. Ensure all the coffee is wet so that you allow for the coffee to blossom.
7. Add the perforated insert into the filter and slowly pour the remaining hot water into the insert.
8. Once drained, remove the Frieling Coffee for One Coffee Filter from your cup, rinse to clean, then sit back and enjoy.
We went searching for a video and found this really cool slow-mo of a SwissGold being used…but you will have to enjoy the clip in silence as it unfortunately has no sound.
We know you want to buy one now, so head on over to our online store and add it to your shopping cart! Please note that you may have purchased this product from us in the past. It was formerly known as the SwissGold KF-300 Goldfilter – it is still the same great quality product, just a different name.
Written by Therese Glowaski.